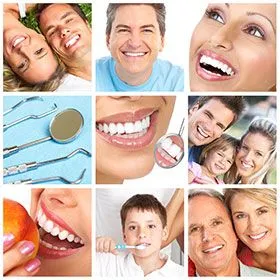 Dentistry Services at Our Practice
At Globus Dental Springfield, Dr. Sunit Jain & Dr. Isha Sood and our entire Springfield dentistry team are dedicated to providing the most thorough and advanced dentistry care available in the most relaxing environment possible.
In addition to preventative dentistry examinations and cleanings, Dr. Sunit Jain & Dr. Isha Sood and the team at Globus Dental Springfield offer a wide array of cosmetic and restorative dentistry solutions. From smile makeover treatments such as porcelain veneers, teeth whitening, and cosmetic bonding, to smile restoration treatments such as root canals, dental crowns, dental emergencies and even dentures, our patients have the full range of dentistry treatments at their disposal.
Great oral health begins with regular dental examinations and cleanings. Dr. Sunit Jain & Dr. Isha Sood and the Globus Dental Springfield team of dental assistants and hygienists provided personalized routine dental examinations. During their twice-yearly check-up, patients in our Springfield-area practice receive a thorough examination of their teeth, gums, tongue, jaw, and neck. If necessary, Drs. Jain & Sood may recommend X-rays, an oral cancer screening, or a periodontal (gum) inspection. After the comprehensive examination, one of our professional and knowledgeable dental hygienists will perform a thorough cleaning and polishing.
Preventing cavities and promoting good oral hygiene should start early on in life. Taking great care of your child's teeth now sets them up for great oral health in the future. Dr. Sunit Jain & Dr. Isha Sood and the staff at Globus Dental Springfield are experienced in pediatric dentistry. Babies and children have specific dental needs and our professional staff is trained to provide the care they need. It's never too early to have great oral health.
Smile, it's a great thing to do! With the advanced techniques in cosmetic dentistry that are offered at Globus Dental Springfield, we are sure to give you something to smile about. Our Springfield team has helped many of our patients correct gaps, chips, stains and missing teeth with cosmetic procedures and treatments. Dr. Sunit Jain & Dr. Isha Sood will be happy to outline your personalized cosmetic dentistry treatment plan and explain all your options. Take the first step towards enhancing your smile and schedule your cosmetic dentistry exam today at (413) 737-9548.
Available Cosmetic Procedures:
Porcelain Veneers
Tooth Whitening
Dental Crowns
Dental Bridges
Cosmetic Dental Bonding
Full Smile Makeover
Sedation dentistry allows Dr. Sunit Jain & Dr. Isha Sood to dramatically reduce your dental anxiety and even perform multiple procedures in one visit. Sedation dentistry allows you to feel relaxed and comfortable and helps to eliminate any unpleasant feelings. For example, many of our Springfield sedation dentistry patients report that they have no memory of the sounds and smells of the dental procedures performed during their appointment. With sedation dentistry there really is no need to be scared of going to the dentist. Explore the benefits of how sedation dentistry can easily help you achieve your dental health objectives.
Invisalign is a great option for patients looking to straighten their teeth without visible metal braces. Invisalign is a gradual method of straightening the teeth using a series of custom-made aligners provided by Dr. Sunit Jain & Dr. Isha Sood. Drs. Jain & Sood are experienced in Invisalign and will determine what is the best method to straighten your teeth. We'll be happy to explain the benefits of Invisalign and to determine whether Invisalign is the best form of straightening teeth for you.